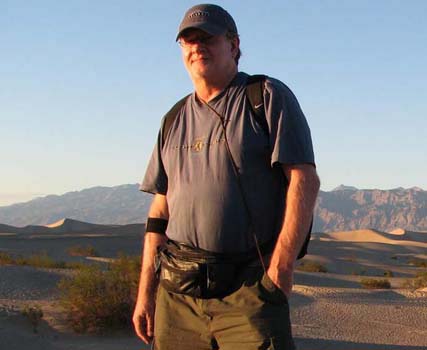 Central California 2014
Let me tell you about myself.
I have a Bachelor of Science in Business Administration from Denver University, and a Master of Science in Computer Science with Distinction from DePaul University.
I worked in Chicago for 12 years. My first job was at Montgomery Ward Corporate HQ's as a Programmer for 2 years. Then I worked for the Federal Reserve Bank of Chicago for just about 10 years as a Systems Analyst, a Systems Engineer, and Network Systems Manager for FRCS-80 (Federal Reserve Communication System for the 1980's > X.25 Backbone - SNA Foreground) which is the Nation's Electronic Funds Transfer Network.
After working 12 years, I decided I wanted to do something different with my life, so I put all my stuff into storage, bought a backpack, and Traveled Around the World for 3 years.
Currently, I'm living in Wisconsin in a Palace. It has a Private Park for a Back Yard. No Kidding! Compared to the High-Rise Apartment I lived in, in Chicago, my House in Wisconsin is a Palace. You see?? Everything is Relative...
My Main Form of Exercise is Running. Its tough, but I do it for Weight Control and the Feeling of Exhilaration you get, when its over.
In the Winter there are times you can find me Cross Country Skiing, Downhill Skiing, Snow Shoeing, and being in awe of a Fresh Fallen Snow.

In the Spring I like Gardening and Building a Great Lawn.
In the Summer I like going to The Lake, Swimming, Canoeing, Boating, Hiking, and Being with Good Friends.
In the Fall I like to Travel to the Outer Lands...
And anytime of year I like Great BBQ's, Fabulous Shows at the Theater, Going to Concerts, Being with Family, Sharing Inspirational Readings, Doing Good Deeds, Carpentry, a Good Game of Chess, Beautiful Clouds, Fantastic Sunsets, Star Gazing, and Moonlit Walks in the Great Forest with my Cat (sounds strange doesn't it, but I have a cat that follows me around wherever I go). And this is the newest addition to the family. This is the Cat's Domain.
I like to Write.

I love to Read (Especially >>> Spiritual Growth and Development Books).
And I like Star Trek and Science Fiction (or as I call it Space Science since we are definitely going to the stars).
* * *
I'm looking for Friends who consider Courtesy and Kindness two of their Top Values.
* * * * * * * * *
>> E-Mail <<
* * * * * * * * *